Bulletins & Announcements
Announcments & Prayer Requests
Announcements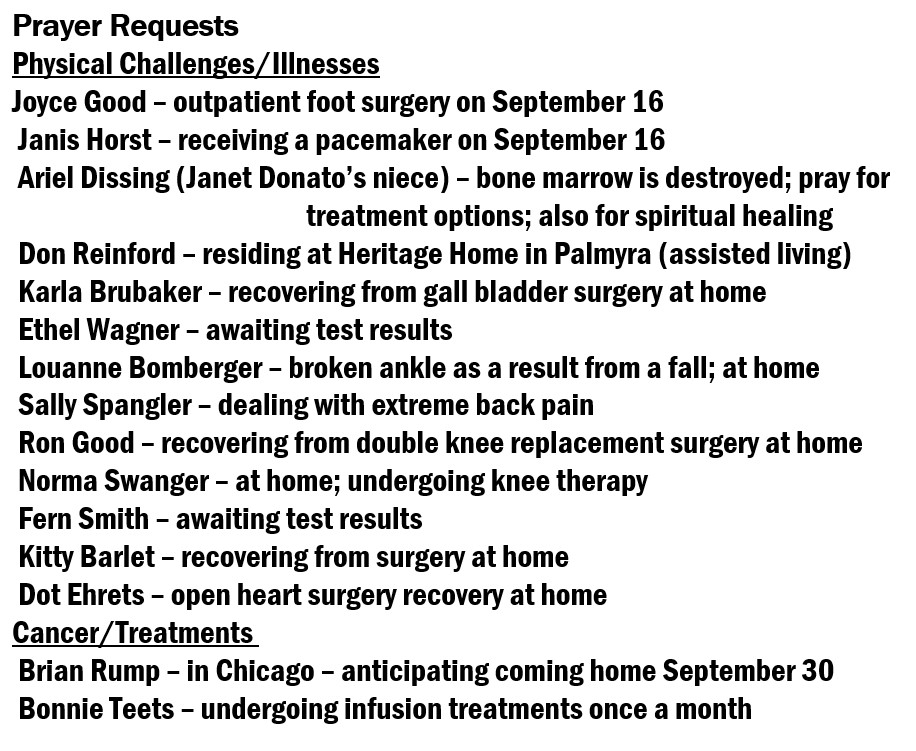 Sunday, September 15
9:55 am – King's Kids Practice in Room 109
6:00 pm – Discussion Night – "Pure Desire" (FLC)
MONDAY, September 16
9:00 am / 7:00 pm – Women's Beth Moore Bible Study
TUESDAY, September 17
10:00 am – Women's Bible Study (Library)
7:00 pm – Congregational Business Meeting (FLC)
WEDNESDAY, September 18
6:00 – 7:30 pm – Men's Conquer Group
6:30 pm – 4th and 5th Grade Class for Girls / Boys
6:30 pm – Message Follow-Up by Pastor Charlie (Room 109)
7:00 pm – "Something Needs To Change" Simulcast (Room 113)
7:30 pm – Worship Choir rehearsal
THURSDAY, September 19
9:00 am – Quilting Day (experienced and beginners welcome)
9:30 am – Mothering Hearts Women's Ministry (Room 108)
FRIDAY, September 20
9:00 pm – Falcon 5th Quarter Outreach (FLC)
SATURDAY, September 21
6:00 am – Men's Prayer Time (Room 111)
9:00 am – Prayer Shawl Ministry Work Day (Room 108)
NEXT SUNDAY, September 22
6:00 pm – Youth Bible studies
LOOKING AHEAD
September 24 – Fellowship of Ministers and Deacons, 7 pm
September 27-29 – Junior High Youth Fall Retreat
September 29 – Single Sisters Social, 12 pm
OCTOBER NEWSLETTER information is due TODAY!
JOIN A LIFE GROUP! Email Kayle Watkins at slcclifegroups@gmail.com or contact her at 405-517-9779 to get more information.
ANYONE WILLING TO LEAD OR HOST a Life Group or Growth Group should contact Pastor Charlie or Pastor Tim.
EVERYONE! and ESPECIALLY PARENTS OF CHILDREN WHO ARE 10 YEARS OF AGE AND OLDER! Please join us on Sunday night, SEPTEMBER 15 at 6 pm in the FLC for a time to discuss the challenges of children, youth, and young adults through a program called "PURE DESIRE," as a method to protect our youth from the sexual struggles and addictions of our society today. This is a critical issue that is occurring within the life of our church. Parents and others are encouraged to join us in learning how to tackle this issue with confidence, clarity, and Biblical perspective.
CONGREGATIONAL BUSINESS MEETING – There will be a Congregational Business Meeting on Tuesday September 17 at 7 pm in the FLC. The agenda will include the following: 2020 Budget, Pastoral Reports, Ministry Team Reports and Calling of Elders, Deacons and a Gifts Discernment Team member. All are encouraged to attend.
ELDER, DEACON AND GIFTS DISCERNMENT TEAM CALL – We will be calling Elders, Deacons and a new Gifts Discernment team member in September. Information about these positions is available at the Information Centers in the narthex and FLC lobby. Please pray for these callings!
DISASTER RELIEF AUCTION is September 27 and 28 at the Lebanon Area Fairgrounds. Help is needed for the BREAKFAST on Saturday morning, September 28. Sign-up in the narthex if interested. HEIFERS or money to purchase heifers is being accepted for the Heifer Auction. Contact Wally Walmer.
MEN'S WILDERNESS RETREAT at the PA Grand Canyon is October 11-13. Contact Richard Good or Don Wick for details.
FALCON 5th QUARTER OUTREACH MINISTRY is September 20. Help us minister to the students. Please sign-up to help as we touch young lives for Christ.
FELLOWSHIP OF MINISTERS AND DEACONS meeting is Tuesday, September 24 at 7 pm in Room 111.
DIRECTORY INFORMATION is due the end of October. Ministry teams should organize your officers and dates and submit them to the church office. Also individuals should give any corrections, deletions, or updates to the church office. Thank you!
REVIVAL SERVICES will be held October 20-23 with Evangelist, Mike Sigman, Senior Pastor of Grace Community Church of Willow Street. Keep these services in prayer. Keep Mike in prayer also as the Lord leads him to minister to our congregation.
"SOMETHING NEEDS TO CHANGE" SIMULCAST – Ont Wednesday night, September 18, 2019 during Wednesday Night Activities at 7:00 pm, Room 113. What does it mean to follow Jesus in a world filled with urgent physical and spiritual need? In the Something Needs to Change Simulcast, David Platt explores that question as he takes you on a mind-wrestling heart-wrenching trek through the Himalayas and possibly a life-altering journey of obedience to Christ. This is a one-night event. Everyone is encouraged to attend! Sign-up on the bulletin board in the narthex or FLC lobby. .
LIVING PROOF SIMULCAST with BETH MOORE is coming on September 28 from 9:30 am – 4:30 pm at Fairland BIC in Cleona. The theme is "Strong Sisters" Proverbs 31:25. Cost is $20 which includes lunch and refreshments throughout the day. All women are welcome to register online at Living Proof Simulcast website.
THE NEXT LCCM OVERNIGHT SHELTER dates are December 30th – January 13th. Contact Rose Walmer if you would like to serve as an overnight chaperone. 717-554-8361.
MOTHERING HEARTS WOMEN'S MINISTRY will be resuming on Thursday, September 19 at 9:15 am with a breakfast buffet and fellowship. This is for mothers of all ages.
ELMCROFT MINISTRY OUTREACH SUNDAY – All are invited to attend a special time of worship on September 22 at Elmcroft, 860 Norman Drive, Lebanon, from 2 – 2:30 pm. Special music will be provided by Hannah Ebling. This outreach ministry will be held in the social room, located inside the main entrance. All are welcome!
SINGLE SISTERS SOCIAL is Sunday, September 29 at 12 noon in the FLC. Join us for food, fellowship and faith as we share our favorite hymns. Please sign-up in the narthex if you will be attending.
WOMEN'S MONDAY BIBLE STUDY will begin September 16 for an 11-week series on "David" by Beth Moore. Choose to attend at 9 am or 7 pm. Please sign-up on a bulletin board.
HOST A MEAL FOR OUR REVIVAL EVANGELIST! The sign-up sheet is posted in the narthex.
HELP IS NEEDED WITH SECURITY on Wednesday nights. Please contact Kurt Wasson or Rick Buffenmeyer if interested in helping.
COUPLES WEEKEND TO REMEMBER at the Hershey Lodge is February 14-16, 2020. Watch for details to come.
All Youth Events
September 5 – Discussion Night – "Pure Desire" at 6 pm
September 25 – See You At The Pole
October 6 – Carry-In Noon Meal and Fellowship with Chespie (For parents and youth)
Junior High Youth Events
September 22 – Bible study at 6 pm
September 27-29 – Fall Retreat at Camp Barachel
Senior High Youth Events
September 22 – Bible study at 6 pm
September 20 – Falcon 5th Quarter Outreach
September 28 – Smoothie Stand at Relief Auction